If you do not see the full page with images, please click here.
June 2018
@ The OHS
Have you ever wondered how long we keep animals at the OHS?
The truth is, we don't euthanize for time or space. Once animals pass medically and behaviourally as adoptable, we keep them until they get adopted—regardless of how long it takes. Take Sadie Mae, the loving hound who came into our care suffering from a gunshot wound to her head late last fall. We shared her story and our supporters let us know we had to help her. We spent months treating her traumatic injuries and she rebounded against all odds, receiving loving care from the staff at the OHS, and her dedicated foster families. Then she started exhibiting symptoms not linked to her injuries. Diagnostic testing revealed that she had spleen cancer. Although her spleen was removed, unfortunately, there is still a very strong likelihood that the cancer will spread. Sadie Mae was also suffering from several other chronic conditions.
The community supported Sadie Mae to a large degree. Wanting the best for her, the OHS made an appeal to our community to find a special adoptive home for Sadie Mae to spend the quality time she has left. Fortunately, about six months after arriving at the OHS, Sadie Mae found her forever family.
We would not be able to help so many animals in need without the help of our supporters, community and volunteers like you. Thank you for giving animals like Sadie Mae a second chance.
Our Bingo Program is in Trouble and We Need You!
Did you know that the OHS is a charity recipient through a third party BINGO fundraiser at the Overbrook Bingo Hall? This event is held every Sunday evening. Volunteers help by selling BINGO sheets, assisting with registration, providing customer service to guests and assisting with event logistics. All proceeds raised through this unique fundraiser provide Ottawa's animals with a second chance at a bright and healthy future.
Volunteers keep this program alive, which brings in $2,000-3,000 each month. We have been struggling to keep up with the demands of this initiative and without additional volunteer support, we could lose our ability to continue partnering. This would be a devastating loss for the animals in our care. Please spread the word to your friends, family, etc…We need your help, and we need it now.

For more information on how to apply, visit our website today! »
---
Event Volunteers—Thank you for Making a Difference!
Thank you OHS event volunteers for helping us successfully host and participate in so many events. The summer season brings many opportunities for the OHS to raise awareness in our community through participating in festivals, events and more. We would not be able to host and participate without your gift of time. Thank you for making the following events possible over the last few months: OHS Garden Party, Children's Festival, Sparks St Jamboree, Great Glebe Garage Sale, OHS Senior's Day, and more!
Do you enjoy meeting new people, getting out in our community, all while helping to raise funds for the animals in our care? If you answered "YES," you need to join our events team today!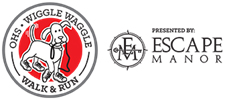 Save the Date: Wiggle Waggle Walk and Run
Join us on Sunday, September 9 for our annual Wiggle Waggle Walk and Run. This is our largest fundraiser of the year and a great way for our community to come together with their four-legged friends to raise money for the nearly 10,000 animals that we care for each year. Help us celebrate our 30th year by participating or volunteering. This event offers a wide variety of activities including: a K9 fun zone, family fun zone, puppy PAWcasso booth, pet pavilion as well as a VIP area for eligible fundraisers.
Don't delay, register today! »
---
Thank You for Being You!
Thank you for joining us as we celebrated and thanked our volunteers throughout National Volunteer Week. During this fun-filled week, we welcomed close to 120 volunteers through educational workshops and our annual brunch and pin-ceremony. We happily shared some of the amazing work that our volunteers help us to achieve, including:
Giving more than 450 school presentations through our humane education program, reaching more than 13, 000 children in our community — teaching our future generations about responsible pet ownership, dog-bite prevention, and so much more;
Giving more than 643 Brightening Lives visits, bringing joy to residents of the retirement communities, hospitals and shelters across the city;
Providing mobile spay/neuter services to 1738 animals in need;
Adopting more than 4,000 animals into new and loving families – even on Christmas morning;
Providing more than 1,400 animals with a second chance through our Foster volunteer program;
Opening 7,558 envelopes in our Development Office, generating 3,197 pet memoriam letters and sending out 792 welcome packages to new donors.
Thank you for all that you do and will continue to do for the animals in our care!
Foster Department: Summer Season is Here!
With the warmer weather finally here, we are going to need more foster homes to help animals in need. Foster families provide care for animals in need of behavioural or medical support until they are ready for adoption. If you've got the time and love, we've got all of the supplies needed for a successful placement. Please consider joining this lifesaving program today, as well as spreading the word in our community of our need for more homes.
Foster Department Summer Season Hours are in effect June 18-December 2, 2018, and are as follows:
| | |
| --- | --- |
| Day | Hours |
| Monday | 7:30 a.m. -7:30 p.m. |
| Tuesday | 7:30 a.m.-7:30 p.m. |
| Wednesday | 7:30 a.m.-7:30 p.m. |
| Thursday | 7:30 a.m.-4 p.m. |
| Friday | 7:30 a.m.-4 p.m. |
| Saturday | 7:30 a.m.-3:30 p.m. |
| Sunday | 11 a.m.-3 p.m. |
We look forward to another busy season. Thank you for saving lives!