If you do not see the full page with images, please click here.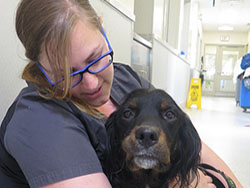 Mentorship provides new ideas to help shelter dogs
How can we provide the best behaviour intervention for dogs in shelters? OHS's coordinator: canine services, Dominique Lalonde, recently completed a mentorship program through the International Association of Animal Behaviour Consultants, to talk about just that. Led by an international shelter consultant, the mentorship group used weekly video discussions to discuss cases and challenges, best intake practices, learn more about the welfare of shelter dogs, and discover how effective dog play groups really are. The program validated much of the strong programming the OHS already has in place, and there were a lot of great ideas for doing even more. Stay tuned!
---
PhD student researcher conducts study on what saves animal lives at shelters
Some of you may have seen Alex Davis at West Hunt Club in the last while. He is a PhD student the OHS hired for the summer to compile data on what truly saves animal lives in shelters, as a part of the OHS Strategic Plan. So far, Alex has found a limited number of published peer-reviewed papers and has expanded his research to include a survey of shelters reporting high release rates. Doing so will help identify what common threads can help guide the OHS in its effort to maximize positive outcomes for the animals in its care. The final report is due in late August and will be presented to the OHS board of directors in September.
Every year, more health conditions considered treatable at OHS
The OHS chief veterinarian recently finished overhauling the organization's "Conditions Matrix", a tool that guides us in objectively determining what health conditions are treatable at the OHS. The Matrix considers what a pet owner in our community would do, and the prognosis and quality of life for different conditions. The update relied on input from community veterinarians and other humane societies, and for the first time includes a break-out of behaviour conditions. The great news? Every year, more conditions are becoming treatable, thanks to the support of our community!
---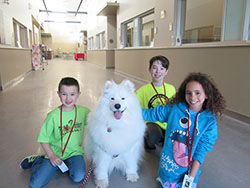 Campers learn important skills while having animal fun
Summer camp is in full swing at the OHS! Camp staff have been working hard presenting engaging animal-themed activities for campers. The fun includes lots of animal interaction and presentations by guest speakers from the Wild Bird Care Centre and Reptiles Rock! It is so great to see our Education Centre filled with happy campers playing while learning about animal welfare. It fills the heart to watch children give a gentle snuggle to a cat who is waiting to be adopted into a forever loving home. Being an OHS camper gives children a unique opportunity to learn about compassion, how to be a responsible pet owner, and most importantly – have fun!
Helping build a more humane community, one presentation at a time

Humane Education volunteers have been visiting schools in the Ottawa area since 1990. This program teaches children and youth about responsible pet ownership, dog-bite prevention, and the role of the Ottawa Humane Society in our community. A two-member team of humane education volunteers delivers a one-hour, scripted presentation that often includes a short video, and an interaction with a companion animal. Volunteers are responsible for either giving the presentation (presenter) or facilitating a visit with a behaviourally assessed companion animal (handler). Presentations are now delivered in both French and English.

Esther Becker is one of our amazingly talented humane educators. She has been a volunteer with the OHS since 2003. Esther is an enthusiastic and engaging presenter for all age groups, and can really get the students interested in the material — her passion is contagious! Esther is truly a team player, and works very hard to continuously help us improve our programming in order to reach more students. We asked Esther to share why she loves supporting the humane education program, "I volunteer in the school program because I enjoy working with people of all ages. We do a good job of teaching people all about animals and animal welfare, and giving them information they didn't have before. It is a great learning opportunity, going from Grade 1 all the way through high school." Thank you Esther for continuing to shape our future pet owners!

Last year the humane education team reached more than 13,000 children/youth in the community through this important program. This year, we've set our goals even higher! In order to make this possible, we need to grow this volunteer team. If you're interested in positively impacting the lives of the next generation of pet owners, click here to sign up and volunteer or help us spread the word!
News from the Volunteer Department
Come and Paw-ty with us!
On Thursday, September 20, 2018 from 6:30 p.m. to 8 p.m., join us in celebrating YOU for all of YOUR hard work and dedication to the animals in our care. The Volunteer Department invites you to participate in a fun-filled evening that will include delicious tacos, a variety of snacks, exciting raffle draws, special impact statements, opportunities to network with OHS staffers, and so much more!
Please contact Lindsey G., CSR: volunteers to reserve your spot today!
Feeling overwhelmed? Join us to learn more about compassion fatigue
Feeling exhausted or overwhelmed? Is volunteering affecting your daily life? All OHS volunteers are encouraged to attend the upcoming compassion fatigue workshop. This educational presentation will inform attendees about compassion fatigue and burnout, focus on identifying personal warning signs and symptoms, and provide effective strategies for coping and prevention. The workshop will be held on October 11 from 6 p.m. to 8 p.m. in our Education Centre.
Seating is limited.
Thank you event volunteers for all your hard work!
Event volunteers continue to raise money for the animals in our care and help raise awareness of our work in our community through their ongoing gift of time. This summer has been especially busy for this outgoing team, and we would not have been able to attend all of the community events without your support—so thank you! Volunteers, and a furry friend or two, helped support the Age Well Celebration, Bark in the Park, K9 SportFest, OHS Newcomer's Program, Bingo, and much more!
Do you enjoy meeting new people and getting out in our community while helping to raise funds for the animals in our care? If you answered "YES" then you need to join our events team today! Please contact manager: volunteers at volunteer@ottawahumane.ca to learn more.
Are you ready to Wiggle and Waggle?
Sunday, September 9, 2018 marks our annual Wiggle Waggle Walk and Run for the animals, our largest fundraiser of the year. It's a great opportunity for the members of our community to join their four-legged friends in raising money for the nearly 10,000 animals in need. If you are not walking or running, you can sign up to volunteer for a variety of roles including: barricades, water stations, bag check, and more!
Want to attend? Click here to register.
Want to volunteer? Click here to email the volunteer department.