Have Extra Time to Donate? We Could Use Your Help!
The chilly weather may be upon us, but things are only heating up for the volunteer department! If you are interested in any of the positions below, please contact the volunteer department today for more details.
Microchip clinics: Did you know the OHS hosts monthly microchip clinics allowing members of the public to get their pet microchipped in case their pet gets lost? We host clinics both onsite and offsite to help reach more pets in our community and we need your help! If you are interested in helping support the administrative logistics and would enjoy greeting clients and pets, please contact the volunteer department to get involved today.
PAL Cat Assistant: Our Pet Adoption Location (PAL) program allows the OHS to find more homes for cats in our care by partnering with local pet stores to complete their adoptions. We are in need of volunteers with morning availability who are interested in feeding, cleaning and socializing OHS cats while they are awaiting adoption in our partner PetSmart locations in Barrhaven, Lansdowne and on Merivale Rd. Without the support of volunteers, we would not be able to partner with these locations, so sign up today to help find more cats their forever families.
BINGO: Volunteers are needed to support this unique fundraiser, located at the Overbrook Bingo Hall at 1150 Lola St, on Sunday evenings from 6-9:30 p.m. Proceeds raised help provide Ottawa's animals with a second chance at a bright and healthy future. Volunteers help by selling BINGO sheets, assisting with registration, providing customer service to guests and assisting with event logistics. All volunteers will receive training before their first shift.
Learning Opportunities
All OHS volunteers are welcome to attend our upcoming compassion fatigue workshop. This educational presentation will teach volunteers about compassion fatigue and burnout for those who donate their time to the helping profession. This session will focus on identifying personal warning signs/symptoms and offer effective strategies for coping and prevention. This workshop will be held on Wednesday, Nov. 15 from 6-8 p.m., in our Education Centre.
Canine Enrichment Volunteers: We will be continuing with our volunteer-run canine obedience classes this fall. Each Thursday evening until mid-December, from 6-7 p.m., volunteers will meet with our coordinator: canine services in our Education Centre to learn and enhance their skills while improving the consistency in handling and training of OHS dogs.
If interested in signing up for the compassion fatigue workshop or the obedience classes, please contact CSR: volunteers today.
Thank You Volunteers
Thank you Wiggle Waggle team!
A HUGE thank you to the amazing volunteer team who helped make this year's 29th Wiggle Waggle Walkathon such a fantastic event. Close to 100 volunteers supported a variety of roles and helped raised $165,000 for the animals in our care. The OHS, especially the animals, are grateful for your support!
Capital Pride
Thank you OHS volunteers for helping the OHS celebrate its PRIDE by marching in the Capital Pride Parade on August 27 — we could not have done it without your spirit and enthusiasm!
Dogs in Hot Cars Campaign
A special thank you to our small but mighty volunteer team who braved the hot summer weather to raise awareness in our community about leaving dogs in hot cars. Thanks to your time and efforts, more people are aware of the dangers and can help prevent unnecessary suffering.
Interested in joining our OHS event volunteer team? Contact the manager: volunteers to sign up today!
Notice! Foster Department Hours Change
Beginning Nov. 6, 2017, the foster team will be moving back to the fall/winter schedule. Please make note, the department will no longer be open on Sundays.
| | |
| --- | --- |
| Weekday | Hours of Operation |
| Monday | 7:30 a.m. to 4 p.m. |
| Tuesday | 7:30 a.m. to 4 p.m. |
| Wednesday | 7:30 a.m. to 4 p.m. |
| Thursday | 7:30 a.m. to 4 p.m. |
| Friday | 7:30 a.m. to 4 p.m. |
| Saturday | 7:30 a.m. to 3:30 p.m. |
| Sunday | CLOSED |
Volunteer Profile: AGM Award Recipients
On Sept. 19 at our annual general meeting, the OHS celebrated and honoured some of the most dedicated volunteers.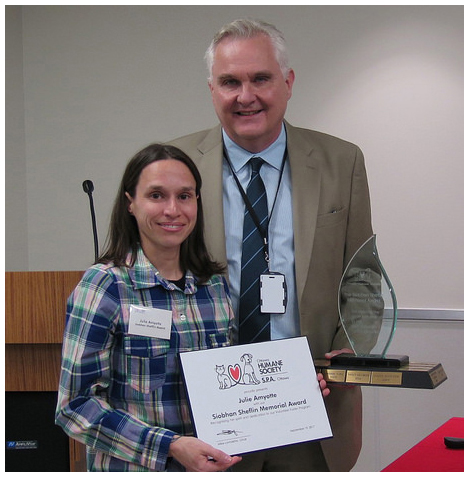 Julie Amyotte and OHS Executive Director Bruce Roney
Siobhan Sheflin Memorial Award — this award is given to an outstanding foster volunteer for their help providing animals with a second chance at a loving, forever home. This year's recipient was Julie Amyotte.
Julie has been a dedicated OHS foster volunteer since June 2014 and has fostered nearly 85 animals in that time. Since joining the program, Julie has taken every opportunity to enhance her skills and knowledge, allowing her to care for many different types of animals in need. She has recently completed specialized OHS training to care for some of the more difficult to place animals, such as house soiling cats, shy/fearful cats and orphan kittens. For giving so many animals in need a second chance at finding their forever homes, thank you Julie for your hard work and dedication.
Eleanor Prowse Volunteer Service Award — this award is given to an outstanding volunteer for tireless devotion to the animals in our care. This year, we proudly awarded Malcom (Hoppy) Hopkinson.
Hoppy joined the OHS volunteer team more than five years ago. During his time, he provided high level support for the OHS Bingo Program. Hoppy welcomed and mentored many other volunteers and the successes of this program would not have been possible without his time and dedication. The OHS and the animals wish Hoppy a happy retirement from his volunteer role as Bingo lead.
Upcoming Event: Join Us for a Spook-tacular Day!
The OHS is hosting its annual Howl-O-ween open house on Saturday, Oct. 28 from 11 a.m.-2:30 p.m. Please join us for some festive family fun, spooky snacks and a scary scavenger hunt. Costumes are encouraged! For more information about this event, please contact our supervisor: programs.
Upcoming Event: Santa Pet Pictures

Starting Dec. 2, Santa Paws is coming to town and he'll be at Ottawa Humane Society all month long. We need volunteers for a variety of roles, including: photographer, photography assistant, greeter, photo printer, registration and the Big Guy himself. To sign up to volunteer for this fun and festive event, please contact our manager: volunteers.
Can't volunteer? Bring your furry friends and family to have your portrait taken with Santa and help Ottawa's animals. All proceeds go directly to supporting the animals in the care of the Ottawa Humane Society. Dates and times of photo sessions are available on our website.