Thank You, Event Volunteers!
A big thank you goes out to all event volunteers who supported the OHS at our events in November and December 2016! It has been a very busy couple of months and these events would not be possible without the support and dedication of our talented volunteer teams:

Santa Pet Pics
Santa Pet Pictures: Santa Pet Pictures saw some big changes this year, including a new location for Santa and his elves! Moving into the OHS administration area provided a new space that, in the end, worked better than in year's past. Families and their pets had their own unique area in our small conference room and the flow was improved for guests waiting for their photos. We appreciated our volunteer team's patience and quick thinking as we worked together to overcome a few logistical challenges throughout the event. It was thanks to you that we welcomed hundreds of customers and raised more than $12,000 in support of OHS animals. We look forward to another great year in 2017!
Holiday Delivery Program: The OHS Holiday Delivery program was yet again a huge success! During this special program, OHS volunteer drivers delivered adopted animals to their new homes throughout Hanukkah and on Christmas Day. This year, 14 animals were adopted and delivered to their forever homes! Way to go, holiday delivery teams!

A family suprised on Christmas morning, thanks to Holiday Delivery volunteers.
Holiday Tree Decorators: A big shout out goes to the amazing volunteers who jumped in at the last minute to help us decorate our Donor Christmas Tree in December! This year, we hung more than 2000 ornaments — this is outstanding! Thank you for your time and patience with this task!
Volunteer Profile: Nick Few
Nick has been a dedicated volunteer in the canine enrichment program since September 2015. The team of volunteers who support this program help OHS dogs get the attention, exercise and mental stimulation that they need during their stay at the shelter. The time that they spend with the dogs provides joy, alleviates stress, and aids in preparing the dogs for a successful adoption into their forever home.
Nick began as a canine enrichment volunteer in the Adoption Centre, and has since graduated to a holding volunteer, after passing his level two assessment. He attributes his success to the many learning experiences he has had, working with other volunteers, participating in OHS training sessions and simply practicing his skills on a weekly basis during his shifts. The coaching he has received from the "wonderful, caring and incredibly knowledgeable group of volunteers who also walk dogs in the holding area," has been instrumental in getting him to where he is today. OHS staff certainly agree that this dedicated group "are there for the dogs, whether it's pouring rain, freezing cold or scorching hot outside." Nick's favourite activity while working with the dogs is the activity puzzles. Most dogs seem to enjoy this mentally stimulating and reward-based activity — "anything for a yummy treat" Nick says.
Nick's favourite dogs to work with are often the ones who need extra patience and attention. They can appear very nervous, wary and timid in their new surroundings. According to Nick, "there is nothing more rewarding than winning over a dog's trust with patience. To have a pup going from hiding under the bed or blankets, to falling asleep in your lap — let's just say, it's a wonderful feeling."
Here's what else Nick has to say about the the program:

"Volunteering offers me the chance to interact with the public as well. I am rather shy by nature, but having a dog at your side is a great icebreaker and I love to promote these wonderful dogs and their individual qualities to anyone who asks! If you are interested in volunteering, why not give a few hours each week to the Ottawa's lost and lonely dogs."
Are you interested in joining this rewarding program? We are currently recruiting for canine enrichment Level 2 holding walkers. For more information about our canine enrichment program, please email volunteering@ottawahumane.ca.
Your Feedback Counts!
Please take a few minutes to participate in our annual volunteer satisfaction survey! We sincerely appreciate your gift of time and dedication to creating a brighter future for Ottawa's animals. We look forward to your thoughts and comments regarding your volunteer experience. Your feedback is a critical part of improving our volunteer-based programs, which help provide many animals with a brighter future.
Volunteer Position Openings
We are in need of additional volunteer support for a few of our most rewarding volunteer programs!
Foster Volunteer: The OHS relies on the dedication of foster volunteers to aid in the recovery of animals who are not yet ready for adoption due to medical or behavioural reasons. Foster volunteers provide temporary care for animals in their home until the animals are ready to be adopted. The goal of the OHS foster program is to provide as many animals as possible with a second chance for a bright and healthy future. The OHS provides food and litter to foster volunteers. In addition, the OHS also supplies medications, examinations, and prescription diets. For more information, visit our website.
Brightening Lives Animal Visits (BLAV) Volunteer: Do you have a well-mannered and social animal companion who loves visiting new people and new places? We've got the program for you! The BLAV program is a community service that the OHS began in 1986. This volunteer-based program promotes the value of animals in the community by bringing joy and happiness to individuals residing in hospitals, retirement residences, shelters and other long-term care facilities, through human and companion animal volunteer interactions. The OHS is looking for volunteers with their own cat or dog, who are able to successfully pass an OHS temperament assessment to participate in this exciting program. Visits are scheduled from Mondays to Thursdays, and consist of morning, afternoon and evening shifts. Volunteers must commit to an on-going regularly scheduled three hour shift each week. For more information, visit our website.
Thank You, Holiday Canine Enrichment Volunteers!
While many of us were at home celebrating holiday mornings opening our gifts and drinking hot chocolate, a wonderful group of dedicated volunteers were at the OHS walking and socializing with our dogs! Thank you to canine enrichment volunteers who made sure that the dogs at the shelter also had holidays that were happy and bright. These volunteers came in on Christmas Eve, Christmas Day, New Year's Eve, New Year's Day and the busy days in between to share their love and attention with the dogs that they are so loyal to.

Recruitment Update: Canine Enrichment Program
The volunteer department is pleased to report that we are in the process of successfully on-boarding 18 new volunteers to support our Canine Enrichment program! These new volunteers will be working in adoptions or holding, and have been on-boarded based on the level of their experience with handling and walking dogs a variety of breeds, temperaments and sizes. For those of you who are patiently waiting for some new "shift mates" to help support the demand — hold tight, they're coming your way!
Survey Results: Foster Program
Thank you to all foster volunteers who submitted feedback through our annual survey. We want to let you know that we've heard you! The volunteer department is reviewing all feedback received over the next few weeks and will be working to implement some exciting new changes to improve our program! If you have additional feedback about your experience as a foster volunteer, please do not hesitate to contact our CSR: foster at foster@ottawahumane.ca.
Save the Date: National Volunteer Week
Mark your calendars and get ready to celebrate all of your hard work and dedication! This year, National Volunteer Week is April 23-29, and as usual, the OHS has a TON of fun and educational activities planned to show our appreciation for your time and talents! Volunteers can look forward to:
Stay tuned for more information — we can't wait to celebrate with you!
Upcoming Event: National Cupcake Day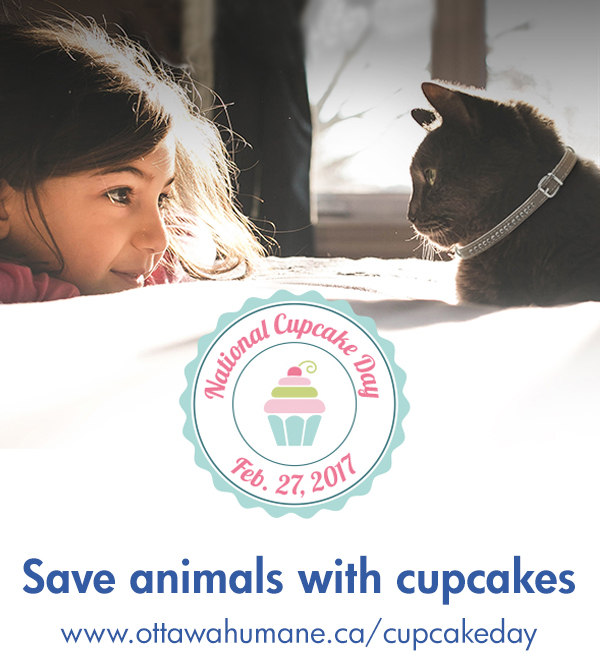 This winter, bake cupcakes, raise funds AND help innocent animals! Monday, Feb. 27 is National Cupcake Day — one of the biggest fundraisers of the year for the OHS.
Here's how you can help on Cupcake Day: a host baker (you) signs up to "bake" a difference by fundraising and collecting donations from friends, family, co-workers and customers. On Feb. 27, 2017, the baker supplies yummy cupcakes and collect donations from supporters. Go the extra doggy mile and top fundraisers and top teams are eligible for great prizes! It's that simple!
Together with your help we can make Monday, Feb. 27 the sweetest and most purr-fect day for Ottawa's animals! Regsiter today at www.ottawahumane.ca/nationalcupcakeday.
Upcoming Event: Garden Party
The Garden Party, in honour of the late Chef Kurt Waldele, returns June 21 to mark our 17th anniversary.
This year brings new partnerships and new chefs all wrapped up in our first evening event! Foodies and OHS supporters alike won't be able to resist this delectable night out! The Garden Party brings together Ottawa's top food and beverage venues to raise money for the animals in the care of the OHS. This event is a delight for the senses and the heart, as we feature Ottawa's top chefs and mixologists that will be preparing a tasting dish or cocktail for guests to enjoy, as well as an open bar serving fine wines and craft beer. There will also be an opportunity for guests to bid on a wonderful and eclectic assortment of live and silent auction items.

Details and information about this event will be available in the coming weeks, along with your chance to purchase tickets.