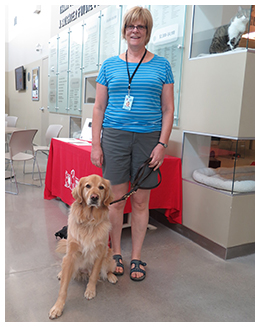 Joann Gulliford has volunteered with the OHS since 2014, traveling all over Ottawa to teach awareness, empathy, and advocacy to children and youth in our community. She brings a wealth of knowledge and understanding to the eyes and ears of her audiences, while bringing along furry friends from the OHS for kids to meet. She's also a volunteer with the OHS Leadership Education with Adolescents and Dogs (LEAD) program. Since 2014, Joann has donated more than 190 hours as an OHS volunteer!
Joann has always loved animals, particularly cats and dogs. Growing up, her family had a cat adopted from the OHS.
Joann always had an interest in working with animals but her work schedule never permitted the extra time. When she retired in 2014, Joann had the time to consider volunteering. The OHS Humane Education Program was recruiting for volunteers at that time. Initially, she thought that it would be a lot of fun to go into schools to teach children and youth about responsible pet ownership. After three years of volunteering with the program,she says she particularly enjoys presentations with the younger grades.
"It is quite rewarding going into a classroom where there are some children who have never met a dog, and over the course of the presentation watching them become less fearful while patting the dog," Joann said.

After one year of volunteering with the Humane Education Program, she joined the LEAD program. When asked about her participation in the LEAD program, she says, "I cannot say enough good things about this program. The bond that develops between the youth and their dog is incredible and so beneficial for both the dog and the youth. The youth have a sense of accomplishment knowing that they trained their dog. The dog develops trust in humans and benefits from the training."
On behalf of the staff, animals, and the children/youth in our community, we would like to thank Joann and our entire Humane Education volunteer team for the important job they have in schools and youth programs throughout the community.
Last year, the humane education team reached 11,000 children and youth in the community through this important and rewarding program. This year, the OHS strives to reach 12,500. In order to make this possible, we need to grow this volunteer team. If you're interested in positively impacting the lives of the next generation of pet owners and want to make a difference the way Joann has, please visit http://www.ottawahumane.ca/get-involved/volunteering/volunteer-opportunities/humane-education-program/.