Boston the Cat: A Life Saved Through Spay/Neuter Surgery
Pardon Boston's lack of enthusiasm. Boston is still feeling a little groggy from her life-saving surgery while the rest of us at the Ottawa Humane Society are excited to launch Spay / Neuter Awareness Month.
You see, Boston — found lost and homeless — arrived at the OHS dehydrated, in pain, and suffering from a horrible infection in her uterus. She needed IV fluids, pain medication, antibiotics, and — most urgently — an emergency spay surgery to save her life.
Thankfully, Boston is now recuperating well after her life-saving surgery. But it was a close call — just a few more days on the streets would have been the end for this sweet kitty.
You can save more lives by sponsoring a spay surgery at the OHS to celebrate Spay / Neuter Awareness Month!
And, if you act now, an anonymous donor will match your donation.
Your donation will help not one BUT TWO cats like Boston!
The OHS Mobile Spay/Neuter Clinic Performs It's 2000th Surgery
As our Mobile Spay/Neuter Services completes yet another month of clinics, we are delighted to share that we have reached another significant milestone in our program: in January we sterilized the 2,000th cat since our program launched!
We have no plans to slow down, even as the winter continues. The weather certainly hasn't deterred our clients; our requests for appointments continue to pour in, and our clinics are consistently booked to capacity. We have had great support from community partners who have welcomed our clients out of the cold during morning registration. This has been a significant factor in the feasibility of continuing with our mobile clinics during an Ottawa winter.
As we look forward to the spring and warmer weather we also look forward to reaching new goals with this program. We have an exciting and ambitious year ahead planned! We are aiming to: sterilize close to 3,000 cats and to reach more than 2,000 clients; encourage more clients to take their cats to a vet; engage vets in incentive programs for our clients; and pilot a community cat strategy.
Through these efforts we hope to see a healthier cat population, staying in their homes.
Click here to see a behind the scenes video of the Mobile Spay/Neuter Clinic.
February is Spay/Neuter Awareness Month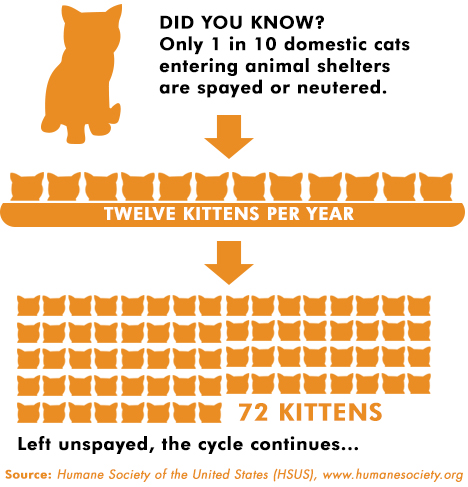 Buddy & Belle: Tucker
Tucker learned the hard way that cars aren't toys: this sweet four-month-old German shepherd mix arrived at the OHS late last week with two broken legs after being hit by a car.
Read more about this tragic story and help Tucker make a full recovery with your donation.
Looking for the purr-fect Valentine's Day activity? Need some puppy love in your life?
This February, love is in the air at the OHS. Come visit the shelter on Saturday, February 10 between 11 a.m. to 1:30 p.m. for our annual My Furry Valentine Family Event. Please join us to share some unconditional love with the animals at the OHS.
There will be plenty of family activities you'll adore, including:
Making valentine's for the shelter animals
Cupcake decorating
Valentine's Day themed animal photo booth
Crafts and activities
OHS Auxiliary bake sale
Critter Crafters craft sale, and
Face painting
For more information about My Furry Valentine, please visit our event website, or contact Sarah by email.
National Cupcake Day
Bake cupcakes, raise funds and help innocent animals! Monday, Feb. 26 is National Cupcake Day. The concept is simple: bake delicious cupcakes for your family, friends and co-workers in exchange for a donation to support Ottawa's animals. Registration is FREE, so don't delay REGISTER today.
Not a great baker? No problem! Purchase your cupcakes from our friends at The Cupcake Lounge. When you place your order let them know it's for National Cupcake Day, and they will donate the proceeds from your purchase to the OHS!
On Feb. 26, celebrate your success in helping bake a difference Ottawa's animals.