No Time Limit on Love at the OHS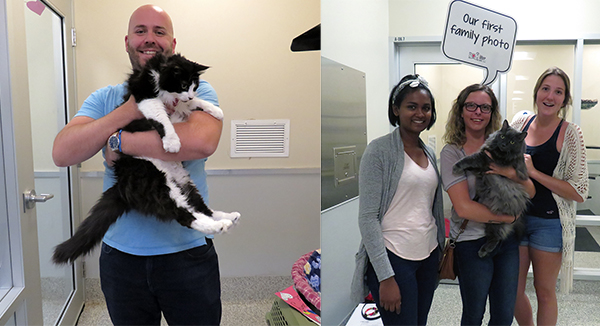 Blue with his adopter, Andrew (L) and Fluffy with her adopter, Leah
Two cats who spent nearly a year at the OHS are a reminder that there's no time limit for adoptable animals in the care of the OHS. No matter how long it takes, animals like Blue and Fluffy have a warm and safe place at the OHS to wait for their forever families.
The OHS often addresses the misconception that animals are given a time limit to find a home. But Blue and Fluffy illustrate just how wrong this myth is. Blue was surrendered to the OHS on Sept. 7, 2016, and Fluffy came in 12 days later, on Sept. 19. They spent nearly a year in the Adoption Centre watching from their kennels as fellow felines were whisked away to their forever homes.
OHS staff did everything they could to find the kitties a home. During their stay at the shelter, they were featured regularly on OHS social media and each appeared in community newspapers as the Pet of the Week. At the beginning of September, the OHS even threw them a party to mark their one-year anniversary at the OHS; their cat condos were decorated, kids from the OHS summer camp made them cards, and the public was invited to stop by to boost their spirits.
The party was a success for Blue, who met his adopter, Andrew, and was off to his forever home that night after 359 days at the shelter! A few weeks later, Fluffy found her adopter, Leah, and went to her new home after 364 days at the OHS!
Pets like Blue and Fluffy have a place at the OHS while they wait to find the forever home that all pets deserve. Thank you for giving animals like Blue and Fluffy their second chance.
OHS Saves Blue Heron with Fractured Wing
It's not every day that OHS Rescue and Investigation Services officers are called on to help a blue heron.
But last month, one of the majestic birds was spotted at Petrie Island struggling with a broken wing, so a Good Samaritan called the OHS for help.
The officer found the bird near the water. His right wing appeared seriously fractured.
The bird attempted to run off, but the officer was slowly and carefully able to capture him using a large net. The officer put a towel over the bird to calm him and transported him back to the vehicle. The bird was wrapped in a blanket, secured in the vehicle and transported to an OHS partner, the Wild Bird Care Centre.
The OHS rescues sick and injured animals throughout the year. If you see an injured animal, call the OHS emergency line at 613-725-1532.
Thank You for Joining Us at the 2017 Wiggle Waggle Walk & Run Presented by Escape Manor
On Saturday, Sept. 9, hundreds of folks gathered together at Lansdowne Park for the 29th annual Wiggle Waggle Walk & Run presented by Escape Manor.
Great weather, a new location and many dedicated furry and humane supporters all contributed to raising much-needed life-saving funds for the animals in the care of the OHS! A huge shout out to our top fundraisers who include:
Wendy Morgan, Susan Seabright, Heather Nicolson (Top Individual Fundraisers)

Jack Duncan, Meredith Brown, Alex & Jazmine Mundi (Top Youth Fundraisers)

Mooselake Labs & Friends (Top Non-Corporate Fundraising Team)

BGIS Barkers (Top Corporate Fundraising Team)
If you have outstanding donations that need to be submitted, please visit our online event site or contact us and we'd be happy to assist you!
We'd also like to give a special thanks to the many sponsors and volunteers who made this event possible. Without their financial support and countless volunteer hours, we would not have been able to raise the much needed funds for Ottawa's most vulnerable animals.
Last but certainly not least, it's people like you who are truly making a difference for the animals. It's your support and attendance at events like these that ensure the Ottawa Humane Society can continue to support the nearly 10,000 animals who need care every year!
Buddy & Belle: Eponine
Just last week, a three-month-old kitten named Eponine arrived at the OHS after being found in terrible pain. The skin on her jaw had been ripped off and she couldn't use her front right leg. Will you be Eponine's second chance by making a donation toward her recovery today?
Read the 2016-2017 Annual Report
Read the 2016-17 OHS annual report to learn about the difference you are making in animal lives!
Warm Hearts Raffle
Need a great holiday gift idea? Warm Hearts Raffle tickets are available now! Warm a friend's, co-worker's or family member's heart this year while supporting Ottawa's animals by purchasing Warm Hearts Raffle tickets!
Tickets are $5 each or five for $20. Prizes include: first prize – $5,000, second prize – $3,000, third prize – $2,000. Additionally, if you purchase tickets on or before Jan. 12, 2018 you qualify for our early bird draw and a chance to win a 128G Apple i-Pad WiFi!
Grand prize draws will take place on Feb. 14, 2018. With only 10,500 tickets to be sold, buy your tickets today so that you don't miss out on this exciting raffle! To purchase your tickets please contact the OHS coordinator: events by email events@ottawahumane.ca or by phone at (613) 725-3166 ext. 238.
Thanksgiving eCards
Celebrate Thanksgiving and help a homeless animal with an eCard! Your eCard will brighten someone's day and your donation will give an animal a second chance.
Sponsored

Don't Let Your Next Team-Building Event Feel Like Just Another Day at the Office!
When you book three full rooms at Escape Manor (or convince your boss to book) you receive two free escapes for yourself, as well as your choice of an Escape Manor Mug or Key Chain Bottle Opener, plus two adult beverages.
Looking for more information to entice your co-workers?