From homeless with two broken legs to happy, healed, and rehomed... Read Tucker's story!
If you do not see the full page with images, please click here.
May 2018
Humane Animal Air Transportation
Instances of animals loaded onto the wrong flight, being placed in overhead bins, being lost or injured, and even dying in transit have been reported in greater numbers recently.
In response, a worldwide airline group recently announced the formation of a program to certify standards for the safety and welfare of animals in transit. The new group, the Center of Excellence for Independent Validators for Live Animals Logistics is tasked with creating benchmarks and certifying best practices for transporting animals by air.
Air Canada Cargo's vice president, Tim Strauss is one of the leaders with the Center. Strauss explains the task ahead, "...transporting animals by air is a complex and highly planned operation." He adds, "Ensuring that animals travel in safe, healthy and humane conditions requires coordination across the supply chain."
We will all be watching to ensure the Center fulfils its mandate and ensures that animals no longer experience pain, distress and even death just because they need to travel by air.
Tucker Found a Forever Home Because of YOU
Many of you were introduced to a four-month-old Shepherd-mix called Tucker in February. Tucker was left at the Ottawa Humane Society with two broken legs, and in a huge amount of pain after having been hit by a car.
Tucker has been healing nicely over the last three months since arriving at the OHS in pain and unable to walk.
To aid his recovery, Tucker began swimming lessons — courtesy of our friends at Canine Water Wellness — to help him regain the muscle strength in his legs and to increase his range of motion. Soon he was able to both swim and stand on his own, and later recovered his old rambunctious nature.
Tucker came a long way in such a short time. Thank you to everyone who donated to his care, helping him receive the second chance he deserves. Because of you, on April 22, Tucker found his forever home though the OHS Foster Me First program, where he will continue to receive OHS care in the home that will soon be his forever.
Be a hero for an animal today....
Finally! Pets on OC Transpo.
In mid-February, we learned that the Ottawa Transit Commission was considering allowing small pets on buses and the O-train: a long-time OHS concern.
We scrambled to put together a plan to advocate for the change with the committee and with city council, arguing that Ottawa was falling behind many cities and that public transportation was essential for pet owners to access veterinary services and both city and OHS services. We were delighted that the amendment passed and came into effect April 2.
There are a few regulations concerning the new initiative and the OHS wanted to make sure that Ottawa's pet owners could easily know and follow the rules. A short video was produced to explain the initiative in conjunction with OC Transpo.
Our video has garnered over 120,000 views to date: watch it now!
Buddy & Belle: Haizen
When this sweet 5-month-old kitten arrived at the Ottawa Humane Society, it was apparent he was in a lot of pain. His sad cries and limping gait pointed right away to a broken leg: X-rays revealed that Haizen's hind right hip was badly fractured.

Read More »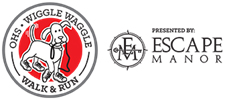 Wiggle Waggle Walk and Run
Join us on Sunday, Sept. 9 at Lansdowne Great Lawn for the 2018 Wiggle Waggle Walk & Run presented by Escape Manor. Sign-up as an individual or gather family, friends and co-workers to create a team. Together we can raise funds to help rehabilitate, reunite and rehome Ottawa's animals.

Don't delay, register today! »
The OHS Garden Party....
Join us on Wednesday, May 16, as Ottawa's top chefs and mixologists take over the Horticulture Building at Lansdowne Park. Enjoy an evening of culinary masterworks, fine wines and craft beer as we raise funds to help rehabilitate, reunite and rehome Ottawa's animals.

Buy your tickets »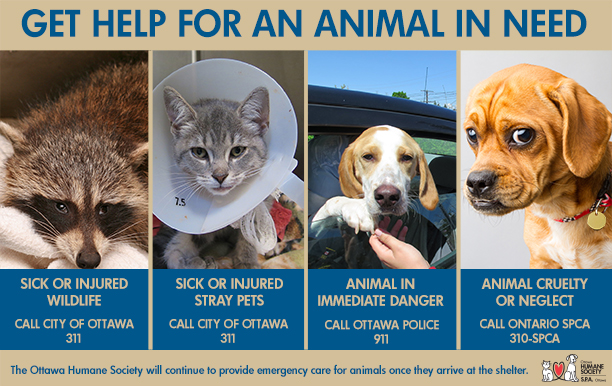 City of Ottawa Bylaw Services is now transporting injured domestic pets and wildlife rather than OHS. This change will cut down on the confusion in our community we saw this past year about who to call if an animal needs emergency transportation to the OHS. Here's who to call to get help for an animal in need.

Read More »
Events Calendar

55+ Event at the Ottawa Humane Society




Guests are invited to stop by the Ottawa Humane Society (245 West Hunt Club Road) on Saturday, May 5 anytime between 10 a.m. and 3 p.m. for activities, refreshments, and so much more!

Email for More Info »

Microchip Clinic




At the OHS (9 a.m. – 12 p.m.)

More Info »

Planning for Your Pet's Future




Please join us for this free seminar on including your pets in your estate plans. This presentation will discuss the ways in which pets can be cared for through a Will, and introduce the OHS Pet Stewardship Program as an option for pet owners.

Email for More Info »

OHS Garden Party




Ottawa's top chefs and mixologists take over the Horticulture Building at Lansdowne Park.

More Info »

Tamarack Ottawa Race Weekend




When you register to run with Team OHS, in additional to your official Race Weekend swag, you'll also receive an OHS Race Kit which includes: a custom OHS race bib, magnet and some other fun items!

More Info »

Auxiliary Spring Craft & Bake Sale




Being held at the Ottawa Humane Society at 245 West Hunt Club, from 9 a.m. until 3 p.m.

More Info »

Wiggle Waggle Walk & Run




The Wiggle Waggle Walk and Run is our largest fundraiser of the year and a great way for our community to come together with their four-legged friends to raise money for the nearly 10,000 animals that the OHS cares for each year.

More Info »